I would like to introduce my newest weekly blog feature, Retro Tuesdays! Every Tuesday I will showcase one (or two, or three) vintage items I've found throughout the week, through thrifting, antiquing, or garage sales.
This week's item happens to be my new love - my vintage Royal typewriter.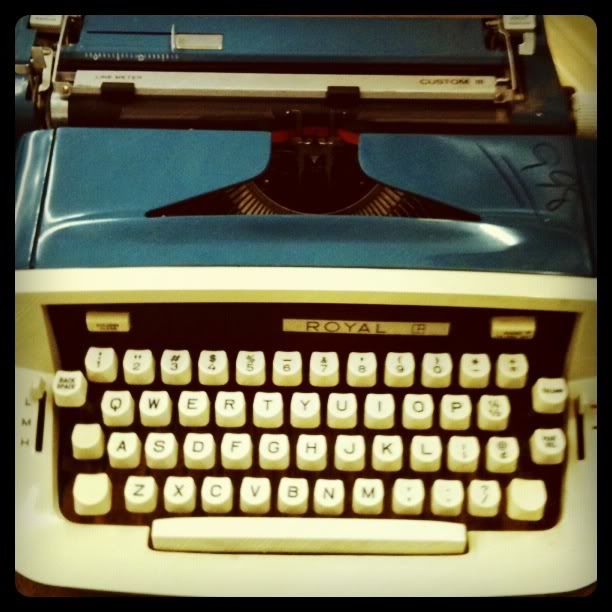 I found this sweet, deep cornflower blue typewriter in my favorite thrift store in Oklahoma City. It seems as though it was fate! I had scoured thrift stores and antique malls for months in search of a working, mid-century typewriter that wasn't too expensive. Much to my dismay, I could never find them.
Never!
Only one time did I find a typewriter like this one - a yellow one - but it's price tag was much too high.
I had begun to give up hope. The typewriter I had so longingly dreamed of was not meant to be mine. But then, it happened. An average stop at my favorite thrift store, on an average trip to my parents' house, led me to this darling typewriter. As if he had been waiting for me all along!
I gasped when I saw him, and immediately checked him over to make sure he wasn't damaged. And he wasn't. I asked Sean to quickly scoop him up for me, before someone else snatches him out of my life forever. Sean carefully picked him up and went to pay for him while I browsed a little more. When we returned to the car, I saw that Sean had put him in the front seat and buckled him in. (Yes, we are that weird. :) )
I got him to my parents' house, cleaned him up, put in some paper, and crossed my fingers that he worked. Much to my delight, he works like a dream (although he needs a new ribbon)! I also chose to name him Clark, as it seems so fitting for such a dapper young gentleman.
I love him so much that I've now posted about him twice, haa.
I hope you've enjoyed the first edition of Retro Tuesdays!
xo, A.